Hellas Safety Marine - FIRE EXTINGUISHER -DRY POWDER (ABC 40%)- 100 Kg. - ON WHEEL
Fire Fighting Equipment / Fire Extinguishers
FIRE EXTINGUISHER -DRY POWDER (ABC 40%)- 100 Kg. - ON WHEEL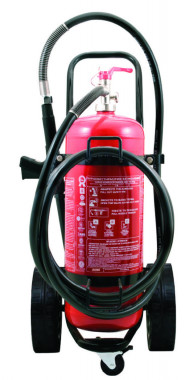 Trolley Fire Extinguisher, 100Kg Dry Powder ABC 40%, with 5m Discharge Hose and Valve with Pressure
Gauge Safety Release Mechanism. SILKSCREENED USAGE-MAINTENANCE INSTRUCTION LABEL 3rd Wheel added on the Front Side of the Fire Extinguisher Carriage for Easier Usage- Handling. Soft Material is used in the retaining wreaths of the vessel to avoid injuries and oxidation.
Capacity 100Kg
Extinguishing Agent ABC 40%
Operating Temperature -30 μέχρι +60 °C
Max Allowable Pressure 21 bar
Test Pressure 30 bar
Volume of Equipment 114 lt
Cylinder Height 1045±3 mm
Cylinder Diameter 400±1 mm
Cylinder Neck Thread G2"
Valve Material HP265
Cylinder Material CuZn40Pb2
Safety Valve 22-28 bar
Approx. gross Weight 149 kg
Approx. Dimensions 1400x600 mm
Hellas Safety Marine
OTHER
PRODUCTS